Howzit hanging and splanging Lunar Giant friends,
So. Lunar Giant is changing. Yes, we are a games company, but we are spreading our LG wings and branching out into some new territory. The obvious thing for me to say is that it's exciting, interesting, and really really cool – because that's my job. But I will tell you, in all honesty, what Lunar Giant is planning and getting into is legitimately intriguing. That's why I joined this company in the midst of leaving Chicago to embark on my own journeys — I wanted to help make these great things happen.
Fact is, if you've been paying attention last year, a lot of what I'm about to pull up the curtain on should hardly be surprising.
We've talked before about Tetrapulse, the game from fellow Chicago indie The Amiable, that we're publishing on Steam. Lunar Giant is a publisher now, folks, but that isn't news. Though, while we're on that topic, check this: We'll be at C2E2
If you want more updates on Tetrapulse, your best bet is to follow The Amiable on Twitter: The guys are posting new level screenshots each and everyday to share the development progress with you folks. Here's today's: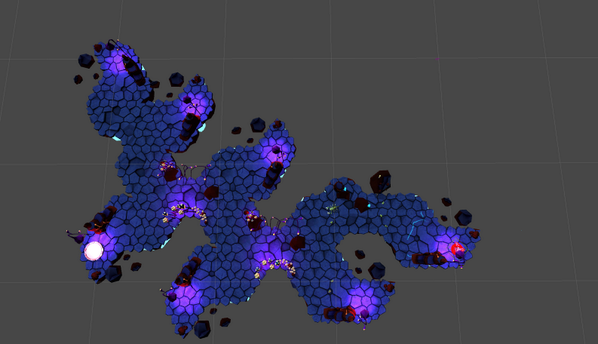 Additionally, all Tetrapulse Kickstarter backers: The guys tell us they just got the shirts in and "they're looking awesome." They just put in another order for the Kickstarter-exclusive shirt and those will be coming in shortly. On top of that, the posters and buttons are all done.
The last bit of non-news thing I'll mention is that we're adapting Delve Deeper — our flagship game — into a boardgame. We've talked about that before. But, in the same spirit as The Amiable, here's a new screenshot on our work so far:
OK. With that out of the way, what I really wanted to tell you guys about is about the hardware stuff we've been tinkering with. Jay and Russ have been collaborating on some custom controllers. This technically shouldn't be a shock, either, given that they spoke last year at FreeGeek Chicago's Software Freedom Day about open hardware. If you missed that talk, here 'tis in all its glory.
The real news in this vein is that the controller they built was taken out for a spin at DePaul University this last weekend at Indie City Games. What makes these controllers so special? Well, it requires 2-4 players to move in synchronization, making games that weren't multiplayer before ones that require teamwork and communication to move forward as you'd normally do without a second thought on your own. (Think of the whole Twitch Plays Pokémon thing… that sort of thing) DePaul folks tried their hands at Flappy Bird and other games, and the results were, well… just watch:
How did this come about? As Jay tells it:
I was playing Octodad a when it came out and the co-op mode fascinated me. What if we could do this with hardware instead of putting it into the software of a game? How would that change the games that we apply the hardware to? Here's a long excerpt I wrote to a friend about the controllers:

For one, the idea of creating hardware that fundamentally changes the way a game designer intended a game to be consumed appeals to me. So, when designing a game, we all have specific pieces of hardware in mind that dictate our direction. Typically revolving around the basic 3 things that most games take advantage of: a monitor display, a standard console or PC, and some kind of control device that conforms to normative standards.

The controllers I'm building right now actually combine each controller's inputs into one uniform input, encouraging communal play for better, or even worse!! So for instance, competitive matches of HALO become an exercise in slapstick. It breaks something that many game designers take for granted: the way their media is consumed. Gonzo at its best.

Most importantly for me, though, is the fact that hardware hacking is democratic, meaning it gives players the ability to realize that they don't have to accept norms presented to them. Emergent play is not something only generated through the software of the game, but the very things we use to interact with it. Games are not media only meant to be consumed, but to be interacted with by the consumer, and this is the best way I can think of doing that right now.

So I guess I look at it kind of as a political and community experiment. The plan is to build these things out into weird controllers that only vaguely resemble the ones we use today. To add dials and other functions to them that are in themselves games, like changing who controls what buttons, or how the inputs are averaged on the software end, or if players want to remove another person's controller from the game. Basically, to enable people to play games they already may own in really weird ways.

One final thought: when the tools to create games became widely available and either free or cheap, we saw an increase in the diversity of ideas and opinions expressed in games (I'm channeling specifically Rise of the Videogame Zinesters here). Hardware is the next place for that to happen, I think. Microcontrollers, Raspberry Pi, etc have shown that we can make powerful but inexpensive hardware available. Now anybody with $30 and some rudimentary programming knowledge can change the way we interact with games. What interesting things could come out of that?
That's kind of where our minds are at. Work is progressing well on the board game, and we will be working more on hardware stuff like this.
Also! You'll have a chance to meet us and The Amiable out at C2E2 in April. We're holding a panel on Publishing Your Indie Game hosted by Dave Lang of Iron Galaxy and Divekick fame. So, if you make games (or want to make games) and want to find out more about how to get published, come on by. It will be going down April 25 at 1:45 p.m. 'til 2:45 p.m., and watch here for more specific information on, like, what room we'll be in and stuff.
The panel is part of an undercurrent of our efforts to help people make games and also help them realize that they can. Spacelab 1, our co-working space, is where Lunar Giant Jay works, but it's also where we're working to foster technology within the community of Mokena. We want to be the epicenter for tech in our hometown. We want smart, interesting people to move here, and if they can't, we want to contribute to the community we're a part of, helping people get started.
So, yeah. We do more than make games. But we're still making games. Like I said: exciting, interesting stuff.
'til next time!
Lunar Giant Dave